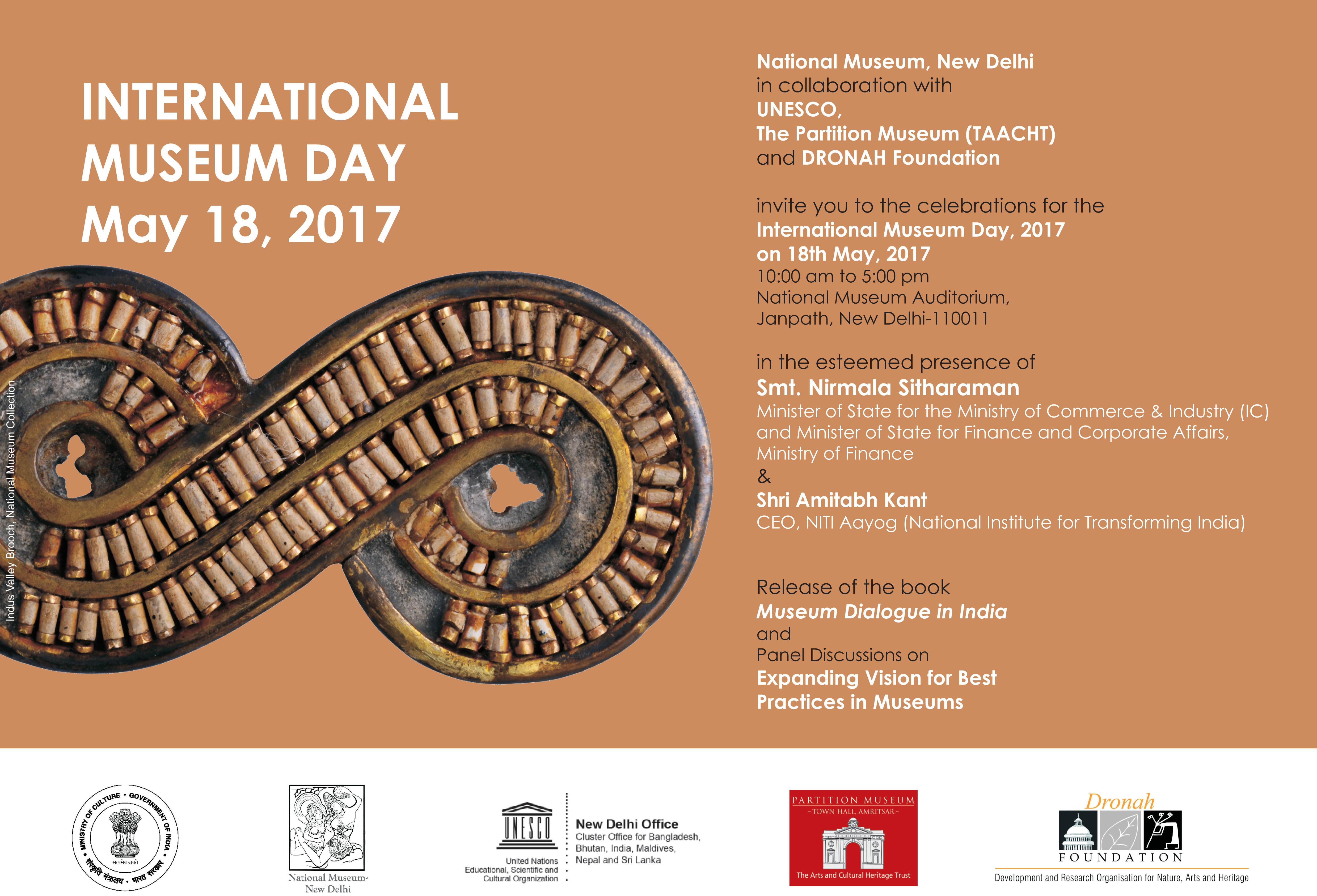 Panel Discussions
on
Expanding Vision for Best Practices in Museums
On
18th May, 2017; 10.00 AM – 5.00 PM
Venue- Auditorium, National Museum, Janpath, New Delhi-110001
Organizers: National Museum
in association with
UNESCO New Delhi Office and DRONAH Foundation
TAACHT (Partition Museum Trust)
The ICOM theme of International Museum Day 2017 is Museums and contested histories: Saying the unspeakable in museums. This theme focuses on the role of museums that, by working to benefit society, become hubs for promoting peaceful relationships between people. It also highlights how the acceptance of a contested history is the first step in envisioning a shared future under the banner of reconciliation.
There is a palpable sense around us these days that our museums in India are going to change, that there is an impending Renaissance. The panel discussions attempt to capture the important moment as we prepare ourselves to make the transition to a different kind of a museum dialogue; one that goes beyond just grand buildings housing precious objects to peoples' museums, tangibles and intangibles. Starting from the Panel discussions on emerging trends in Museums, Collections Care and the scope of Museum Planning and Design in the forenoon sessions, the discussions will move on to Curatorial Voices in later sessions including aspects such as new expressions for 'Lost Memories and Voices' through dialogue on The Partition Museum and the Bhopal gas tragedy that raise questions about the promise and perils of museumising contentious events and an opportunity to dismantle the high-culture-low-culture divide prevalent in our museums and forces the museums to engage with difficult narratives. 'Culture on the go' will specifically focus on museums in public spaces – the mall, metro stations, railways stations and airports or even conversion of urban public spaces into art galleries. The series of expert panel discussions proposed for the International Museum Day, 18th May 2017 emerge from articles in the special publication 'Museum Dialogue in India' a book on Rethinking of Museums in India to be launched on the same day. The book is published by Aryan Publishers and Dronah and edited by museology expert Ms Rama Lakshmi. It covers contributions from a wide range of leading museum experts, curators and professionals across India and abroad.
The panel discussions will be relevant for all in the Museum field – practitioners, professionals, curators, designers, conservators, researchers, administrators, managers and museology students. It will also be relevant for various state government officials involved in museum upgradations and private foundations owning museums.
International Museum Day
18th May 2017 at Auditorium, National Museum
'Expanding Vision for Best Practices in Museums'
TENTATIVE PROGRAMME
10.00 -10.45am

INAUGRAL SESSION

Lighting of the Lamp

Welcome Address by DG, National Museum

Launch of the book 'Museum Dialogue in India' edited by Rama Lakshmi and Concept by Shikha Jain
Launch of website on Mapping Museums, Sahapedia

Presenting UNESCO Report Recommendations on Museums by Ms Moe Chiba to JS, Museums, Ministry of Culture

Theme of the Day by Ms Reena Diwan, President, ICOM India

Address by Smt. Pinky Anand, Additional Solicitor General of India and Trustee, Partition Museum Trust

Address by Smt Shefali Shah, Joint Secretary, Museums

Address by Shri N K Sinha, Secretary, Culture

Special Address by Shri Amitabh Kant, CEO, NITI Aayog, Guest of Honour

Inaugural Address by Chief Guest, Smt. Nirmala Sitharaman, Minister of State for the Ministry of Commerce & Industry (IC) and Minister of State for Finance and Corporate Affairs, Ministry of Finance

Vote of Thanks by Kishwar Desai, Chair, Partition Museum Trust

10:55- 11.15 am

Tea Break, Ajanta Hall, First Floor, National Museum

11.15 – 11.45 am

ROLE OF MUSEUMS – AN OVERVIEW


Chaired by Mr Sabyasachi Mukherjee, Director General, CSMVS, Mumbai

Panel Members –Dr. Sachchidanand Joshi, Member Secretary, IGNCA; Ms Rama Lakshmi, Mr. Jayant Sengupta, Director, Indian Museum, Kolkata; Mr. Adwaita Gadanayak, Director, NGMA, Ms Dipali Khanna, Trustee, Partition Museum

11.45 am-12.15 pm

COLLECTIONS CARE – CATALOGUING AND CONSERVATION


Chaired by Ms Sudha Gopalakrishnan, Executive Director, Sahapedia

Panel members – Dr. Manvi Seth, Professor, Museology, NMI Mr. Rajesh Purohit, Director, Allahabad Museum; Dr. A. Nagender Reddy, Director, Salarjung Museum; Mr Nilabh Sinha Director ICCI, INTACH; Dr. Satish Pandey, Associate Professor, NMI; Dr. Achal Pandya, Associate Professor IGNCA

12.15 pm- 1.00 pm

MUSEUM PLANNING – DESIGN AND ACCESSIBILITY


Chaired by Ms Moe Chiba, Programme Specialist for Culture, UNESCO Delhi

Panel Members – Ms Batul Raaj Mehta; Mr. Amardeep Behl; Dr. Shikha Jain; Ms Anjelee Agarwal, Samarthyam; Ms Rumii Seth; Mr. Sidhant Shah; Mr. Kamal Kishore, NDMA

1.00 -1.40 pm

Working Lunch, Ajanta Hall, First Floor, National Museum

1.40 – 2.20 pm

CURATORIAL VOICES – STORIES AND PEOPLE


Chaired by Prof. Amareswar Galla. Executive Director, International Institute of Inclusive Museums

Panel Members – Dr. Neerja Poddar, Curator, City Palace Museum Udaipur; Mr. Karni Singh, Curator, Mehrangarh Museum, Jodhpur; Ms Deborah Thiagrajan, Director, Dakshinachitra, Chennai; Ms Kishwar Desai, Director, Partition Museum, Amritsar; Prof Surajit Sarkar, Centre for Community Knowledge, Ambedkar University Delhi

2.20 – 3.00 pm

MUSEUM OUTREACH


Chaired by Ms Maureen Leibl

Panel Members – Ms Amita Baig, World Monument Fund, India; Ms Tasneem Mehta, Director, Bhau Daji Lad Museum, Mumbai; Dr Shobita Punja, Art Historian and Museum Specialist; Ms Joyoti Roy, Outreach Consultant, National Museum, New Delhi and Ms Mallika Ahluwalia, Partition Museum

3.00-3.40 pm

RECENT TRENDS – CULTURE ON THE GO


Chaired by Ms Alka Pande

Panel Members – Mr. Vivek Sharma, Designer, Heritage Transport Museum, Gurugram; Ms Lekha Poddar, Devi Art Foundation; Mr. Anuj Dayal, Delhi Metro Museum, DMRC, Mr. US Mina, Director, National Rail Museum; Ms Pooja Sood, Khoj Foundation

3.40- 4.00 pm

Tea break

4.00- 4.30 pm

Discussion of the Chairs and Final Recommendations moderated by

DG, National Museum

4.30 PM – Curated Tour of National Museum for all participants